What is Managed WiFi?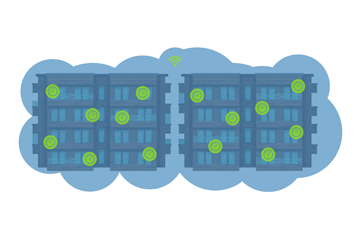 We are living in an on-demand world. So much can be put in the palm of your hand at the snap of your fingers. In this tech-savvy, instant access society the need for high-speed internet is in more demand than it ever has been. Fast and reliable internet is no longer a "want' it is a "need." Today every property manager knows that their residents need AND want WiFi more than running water. It is THE number one amenity that residents want today.
For landlords and property owners, this has drawn an enticing debate of how to enable that high-speed satisfaction. Establishing fast and quality WiFi to hundreds of units, all with varying needs is hard to provide, especially without internet connectivity issues. If tenants do not get the speed and quality that they desire, they will look elsewhere and select another housing option or move out and not renew their lease. We know that they will act fast, and this has property owners working even quicker to handle their needs.
While there have been a variety of efforts to find the perfect solution, the best option to date is fully managed WiFi services. This allows experts to handle your internet support, not your property manager and building staff.
Benefits of Managed WiFi Services
Managed WiFi offers wireless Internet access for employees, tenants, and guests throughout a property. The services typically included with managed WiFi include providing your bandwidth or fiber line, resident support, network controllers, switches, cabling, and more.
Essentially, managed WiFi provides internet throughout an entire building, filling the needs of hundreds of customers. These services are 100% the responsibility of your managed WiFi provider and not your staff. The provider works with the building owners to determine who and where the access will be provided, then monitors the performance and usage. Industries that can benefit from managed WiFi services include real estate, healthcare, financial institutions, and hospitality.


Benefits of Managed WiFi Services at your MDU include:
Smart WiFi uses artificial intelligence to make sure each device is getting the best connectivity

Higher security features for both property managers and tenants

Eliminates WiFi interference from competing devices and maximizes the wireless spectrum for performance in your building

A service that is managed by the provider, takes the stress of managing an internet service away from your plate.

Managed WiFi can be a monthly recurring revenue stream, the ability to charge higher rent at your apartment building or the ability to maintain rents in a competitive environment

It provides the opportunity to up-sell other services to your tenants and add pay as you grow options

Increase the value of your buildings with an infrastructure you own

More renewed leases, saving turnovers costs

Save labor costs by deploying Smart Building IoT technologies to help you better manage the property (smart HVAC systems, Door left open sensors, smart appliances that alert you when there are issues, more and more building systems are coming with connectivity options that alert you to maintenance needs before failing)
Managed WiFi enables faster and more reliable internet without the responsibility of managing the service itself. Want to see for yourself, check out this two-minute video on what managed WiFi can do for your property.


Smart WiFi
Smart WiFi provides the fastest, most reliable connections, no matter the location, device, or demands. It ensures that internet service is not being wasted in areas where it is not needed and is pushed to high-demand places instead. Smart WiFi will seek out where a connection is necessary. It will move its connection to the closest access point to ensure the strongest signal in the building. No matter your location, smart WiFi will provide the speed and reliability of your tenants expect.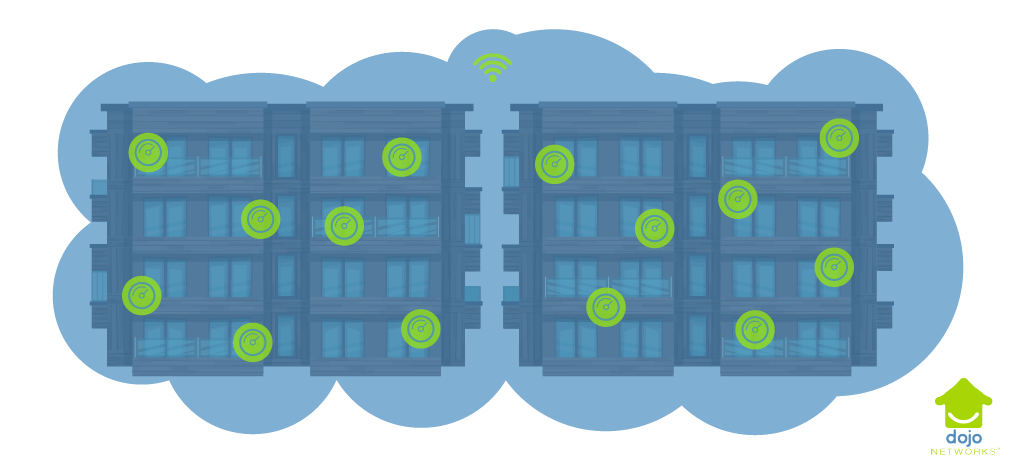 This ensures that property managers always have the fastest possible internet service, no matter how big their MDU property or complex. No matter the location, no device should experience slow internet, let alone loss of signal.
Too often, apartment complexes ask their tenants to bring their own internet router and provide their own service. However, this creates too many competing routers looking to connect to one access point. At DojoNetworks, our network is "self-healing," if one access point fails, the nearest access point will take over that unit's responsibilities. The internet flows seamlessly throughout the unit rather than seeing competing services bounce off of each other.

Security Benefits of Properly Managed WiFi Solutions
This technology provides a virtual network for each apartment inside the building. Therefore, your devices will be on their own private network. Tenants get the relief of property-wide WiFi services with the privacy of their local connection.
Each tenant can share access to local devices and control which devices have access to their network. Friends can quickly jump on your private network, while neighbors or strangers are still held out or they can use the shared guest network. Being able to control access is a significant security benefit for shared internet service.
Managed by the Provider
What makes managed WiFi such a luxury is that the provider manages the service. Tenants have their own private network. They have the control to add devices, or users to their managed WiFi. However, the service is still provided to them.
Tenants do not have to rent equipment or deal with technical issues on their own. They have security but are not responsible for setting up and managing security features.
Managed WiFi services are a considerable benefit to landlords as well. Property owners can relax knowing that they do not have to take calls or resolve issues related to the Internet or WiFi. Managed WiFi means managed by the provider. You are already managing your MDU; you should not have to manage your internet as well.
All technical issues are handled by the internet service provider. The installation and connection of managed WiFi services will be set-up by the provider as well.
Every question, concern, and comment about internet access in your building is the responsibility of the provider. This means having a tech team available 24/7 to provide instant help for any issues.
Managed WiFi Services can be a recurring revenue stream. The convenience of leaving internet services in the hands of the provider is valuable for a variety of ways, but will undoubtedly be a financial benefit. Most MDUs will ask tenants to provide their own internet services through local cable or phone providers. Tenants go into their apartment hunt with the idea in mind that they will not only pay for internet services but also go through the installation and maintenance process. Property owners who have managed WiFi can use the included Internet as a selling point. Tenants do not need to bring equipment or set-up meetings with service providers. Saving this hassle is a selling feature that can offset raising rent prices. Tenants will gladly pay a higher rent, and property owners will make up the difference in supplying internet services and more.
Additional Selling Points & Upsell Opportunities
Building Access & Keyless Entry Systems

Keyless entry systems can be applied to the outside of a premise, but also rooms within a unit. This added security benefit can also be included in rent. It will save the tenant money for a key and will eliminate the chance of them losing their key.
Occupancy Sensors

Motion and smart occupancy sensors can be great for saving on energy costs. Allowing temperature controls to float a few degrees based on ambient temperature or turning off lighting when units are unoccupied can lead to cost savings.
Temperature Monitoring & Control Systems

Property owners can set temperature limits for units and still allow residents to set their own temperatures. Apps and controls can be added to maintain any tenants desired temperature range.
Connected Vending Machines & Appliances

Vending machines are a hidden feature that can generate plenty of profit. The service provider can control vending machines, and keys can be made to load funds on, ensuring unwanted visitors do not gain access.
This can be applied for washing and drying units as well. Being able to advertise these added amenities can be a significant pricing advantage.
Smart Metering for Electric & Water

Smart metering can record electric and water usage electronically. Where traditional meters will measure how much is being used, smart meters determine when and how much is being used. By determining when the demand of each service is at its highest, these companies can work around tenants needs to adjust prices based on day and season. If you want to bill residents for usage you can or you can only bill residents that are High users that go beyond the standard usage.
Each feature can generate added revenue or can be offered as an added benefit to justify higher rent. Tenants can select add-ons that can be included in their lease.
If residents want faster speeds that the base plan that you are including, they can upgrade to faster packages. We handle all billing and revenue share 50% of the upgrade fees back to the property.
Intrinsic Benefits
Managed WiFi comes with an underlying value that can create revenue in a variety of ways. This feeling comes from the general satisfaction of your tenants. Without hassling over the internet bill, or stressing because their video won't load, tenants will instead smile with relief as they enter safely into their building with their smart key and seamlessly watch their cell phone connect to the local WiFi.
An MDU's employees can benefit as well. Being connected to the fastest internet speeds can improve employee productivity and drive their attention to satisfying the tenants.
Considering the desire for high speeds, providing a user-friendly and high-speed internet service can go a longer way than expected. It is something that can be promoted as an advantage over competitors.
With improved customer relations can come renewed leases, which saves money and generates positive word of mouth. This brings on a broader pool of tenants. The natural benefits and satisfaction can add up and go a long way towards creating higher demand.
Is Managed WiFi right for my Apartment complex?
As you can see, having managed WiFi networks can benefit your tenants and business by increasing speed, adding security, and putting less of the responsibility on the tenant's plate. In turn, this helps create a better relationship between the client, and also gives the property owner a chance to increase rent, and add other potential revenue options. However, it also can lead to customer retention, which is the most significant benefit.
With little work on your end, you can provide your tenants with a feature that your customers want, and need in their internet service.
Don't get left behind in the fast-paced world. If you are a property owner of any Multi-Dwelling Unit, managed WiFi has to be on your radar. DojoNetworks™ can install & support a high-speed WiFi network in your property. Contact us today with any questions, comments, or concerns to see if you are ready to take the next step and move to managed WiFi.